Ninjas (Ages 3-4)
Tae Kwon Do
Students are working on age-appropriate motor skills, social skills, and self-control. Students are taught Do Jang behavior; disciple, self-control, respect, and focus. Tae Kwon Do basic drills are taught and belts are received based on attendance.
Hiawatha's Martial Arts & Fitness Ninjas Program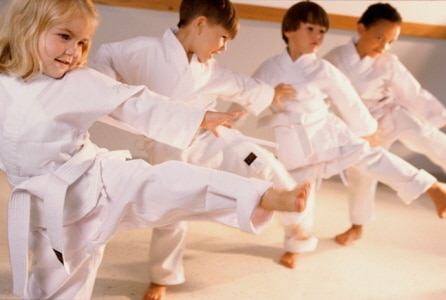 Firm Foundation
Lesson #1? Having fun. At Hiawatha's Martial Arts & Fitness, we believe that the secret to success in Martial Arts is a love for the sport before anything else. When students have a genuine passion for Tae Kwon Do, they practice and perform with a level of vigor, enthusiasm, and confidence that can't be taught. When it comes to our toddler-aged students, fostering that passion is our top priority. We teach students basic Tae Kwon Do stances and techniques in a way that is fun and exciting. By incorporating lots of games and group activities, students don't even realize how much they're learning while they're playing and getting their energy out.
Vital Values
Hiawatha's Martial Arts & Fitness's Tae Kwon Do training is every parent's dream. We believe that instilling lifelong values and morals from a young age is just as important as teaching students the perfect roundhouse kick. At Hiawatha's Martial Arts & Fitness, we teach our toddler martial artists how to practice respect towards adults, demonstrate discipline in school and at home, be patient and kind with friends and classmates, eat healthily and take care of their bodies, and stay safe. By enrolling your child in a Tae Kwon Do class at Hiawatha's Martial Arts & Fitness, you are setting them up for success in their future friendships, academic experiences, and life choices.
Try a Free Class Today!